Help
Accessing Unattended Computers
Setting up Access
To create a connection, follow the instructions:
Sign in to your SkyFex account and open My Computers tab.
Click Add This Computer and:

a. Download and install the SkyFex Unattended Access service.
b. Click Link to a SkyFex account when prompted.

c.Enter your SkyFex login and password.
Your computer will then be available remotely from your SkyFex account, on My Computers tab. Connect your computer by clicking Connect.

Note that with SkyFex Free we do not guarantee access to your unattended computers if the load on SkyFex servers is too high. To get assured any time access, buy SkyFex Pro.

IMPORTANT: If you are accessing a locked down machine, select Tools -> Special Keys -> Ctrl-Alt-Del to unlock the password entry dialog.

You can remove the computer from your SkyFex account by clicking Delete.
Managing the Remote Access Service
You can open the SkyFex Unattended Access window by clicking Start -> All Programs -> SkyFex Unattended Service -> Control.
If you close the SkyFex Unattended Access service window, the service will still continue running.
You can start and stop the service by clicking the appropriate buttons under the Service tab.

On the Account tab, you can unlink your computer from your SkyFex account.

On the Logs tab, you can view the saved logs in a folder and toggle logging.

On the File Transfer tab, you can specify and open the destination folder for the files sent to this computer via SkyFex. Read more about sending files in the help article.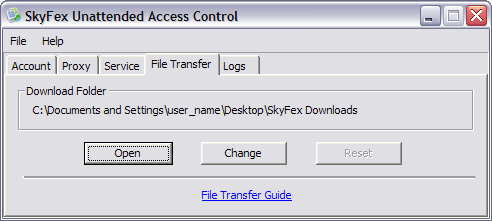 Back to Help Index